If you are like many of us "at a certain age" for whom family photos sit hidden away in boxes, here is a project that will bring together your favorite (or "found") relatives with a story that begs to be told. Snapshot to Heirloom is a workshop for all levels designed to teach the basics of encaustic mixed media collage. Armed with a healthy dose of imagination, a few art materials, and your own family snapshots, you will learn how to take those photos that no one wants and turn them into personal paintings that the whole family will beg to own. 
This class was born as a response to artworks from a show I had in Austin, TX that incorporated brownie camera images from my grandmother's 1900 year-old scrapbook. During and following the show, I had artists from around the country asking me to teach a class so that they could create their own art from family photos. I am delighted to share my process here and help you bring your family stories to life.
Best yet, I am teaching a side by side process using encaustic and faux encaustic which uses acrylic mediums instead of wax. You can work in both mediums or work in one. Either way you will create stunning works of art that will take your favorite snapshots out of the closet and onto the wall.
In this class you will learn....
·      To create unique collage materials from vintage found papers
·      To prepare a canvas support for encaustic and faux encaustic painting
·      To use vintage found and family snapshots in an imagined story
·      To create depth and complexity through layers of wax or acrylic faux encaustic medium
·      To understand which mixed media materials, work best on wax and acrylic to provide texture, detail, and color
·      To finish paintings in both encaustic and faux encaustic to create a professional and pleasing look
Available in days

days after you enroll

Snapshot to Heirloom--Retelling Your Family Story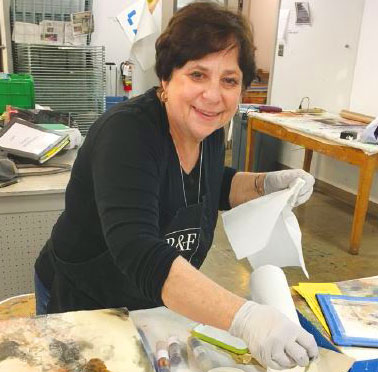 I come to you virtually from my little part of the world in the Texas Hill Country where I work as a full time artist and educator. During normal times, I also teach in person classes at Southwest School of Art and in art centers in various parts of the United States.
I am excited to finally be able to bring some of my live classes to students around the world in this online format. Snapshot to Heirloom is one of my favorite project classes and is the perfect format to teach the process of layering in wax.